[News] 'Queen of the Asia' Ultra V UltraCol Special Lecture
페이지 정보
작성자

ultrav

작성일

23-05-05 09:57 조회213회
본문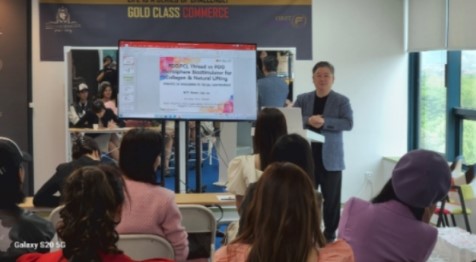 The final round of the 23-year regular edition Korean competition of Mrs. First 'Queen of the Asia', the representative Mrs. competition of the First Foundation, will be held on the 10th at My Khe Beach Temple Danang Beach Club, Vietnam.
Ultra V (CEO Han-Jin Kwon), the main sponsor of the competition, held an anti-aging seminar on UltraCol for competition candidates and gold class regular course members at the First Foundation Commerce Learning Center in Dangsan-dong, Yeongdeungpo-gu, Seoul on the 4th.
Mrs. First Queen of the Asia Korean Edition, which is going overseas for the first time since the pandemic, also serves as the Asian finals Korean election in November. Won-Il Shim, chairman and honorary president of SG Group, is in charge of the convention venue, and executive chairman Lee Do-ah, co-representative of One Entertainment under SG Group, will co-manage the event.
The first place in this competition is specially sponsored by Space Gold. The contest executive committee said, "We plan to nurture Mrs. influencers through special prizes, various giveaways and exclusive activities."
There is no fee to participate in the competition. Eligible applicants are between the ages of 25 and 45. The winner and runner-up of the competition will be selected as Korean representatives for the 'Queen of the Asia' held in Da Nang, Vietnam in November.​​